QF Machine Adapter

* Scroll To Cart *
Nordfab® Ducting Quick-Fit® Machine Adapters are created to allow an easy connection of QF® ductwork to machines that require fume or dust removal. Ends are Quick Fit (rolled edge) to NOFIT (plain edge). Made available in galvanized, aluminum, stainless and stainless+ with optional no. 4 finish materials.
Expanded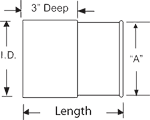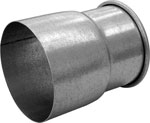 Notes:
QF (standard), Flange, Raw
Length of expanded end is 3.00" long for 4" diameter and greater, 3" expanded length is 0.625
Specify if ID or OD is required - if ID is more or less than dimensions shown above, order as a 3222 reducer
Galvanized steel provides little or no breakdown of zinc (zinc melting point 740°F)
Raw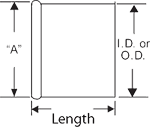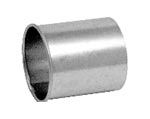 Construction:
Seam: longitudinal seam is a solid-laser welded for strength and to reduce leakage (exception: 3" adapter is lapped, spot welded, and caulked.)

ORDERING NOTES: Unless specified, 3" through 24" is QF. Over 24" is flanged. Data subject to change without notice. Stainless steel components requiring flanges will be supplied with stainless steel flanges unless otherwise specified. For special parts or items to be custom manufactured, contact us for quotation.
Customers Also Viewed