Jet Cap

* Scroll To Cart *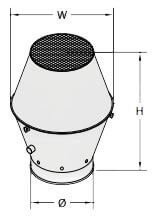 Jet Caps install in seconds with standard duct clamps and are designed to prevent rain from entering duct work. Nordfab jet caps feature an inner funnel piece that allows rain to drain out of ductwork even when the system is not running.
Notes
:
Includes three angle brackets for guide wire attachment
Drain conduit:
3/4" dia. used for 6" - 14" ID sizes
1-1/2" dia. used for 15" - 24" ID sizes
2" dia. used for 26" - 40" ID sizes
Construction:
Top screen: expanded metal, 3/4" square pattern Koga painted black metal
Collars: Collars have a laser welded longitudinal seam (exception: 3" collars are lapped, spot welded, and caulked.)

ORDERING NOTES: Unless specified, 3" through 24" is QF. Over 24" is flanged. Data subject to change without notice. Stainless steel components requiring flanges will be supplied with stainless steel flanges unless otherwise specified. For special parts or items to be custom manufactured, contact us for quotation.
Customers Also Viewed