Nordfab® Ducting FAQs
Your QF® duct pipes are all 5' long, what if I need a 36" piece?
Since our duct pipes are 5' long, you can use an adjustable nipple to achieve the necessary length.
What is an adjustable nipple?
An adjustable nipple is an 11" piece that is used when cutting down the length of a 5' pipe.
How many adjustable nipples do I need to order?
You will need an adjustable nipple when a pipe run is less than a 5' increment and almost every time you have a branch or 90° elbow.
Do duct clamps come with the pipe? If not, how many do I need to order?
Duct clamps do not come with pipes. As a rule, you will need one clamp per component ordered.
What products do you stock?
We stock a complete selection of duct pipes, adjustable nipples, elbows, branches, and adapters in sizes 3" to 12".
How long do products take to ship?
Standard shipping is 2-5 days.
How often do I need a pipe hanger?
A pipe hanger is required every 10' to support the duct. Please refer to your local codes.
How do I connect to the end of an existing non-QF system?
Nordfab manufactures a full line of adapters to connect to any existing pipe, regardless of if you implement a non-qf system.
How do I connect to a metric machine?
We can provide adapters and reducers to connect to most metric machines.
How do I connect to a 2" diameter or smaller machine connection?
Nordfab reducers feature 2" diameters and smaller hose connections.
What are the exact OD and ID of your pipe?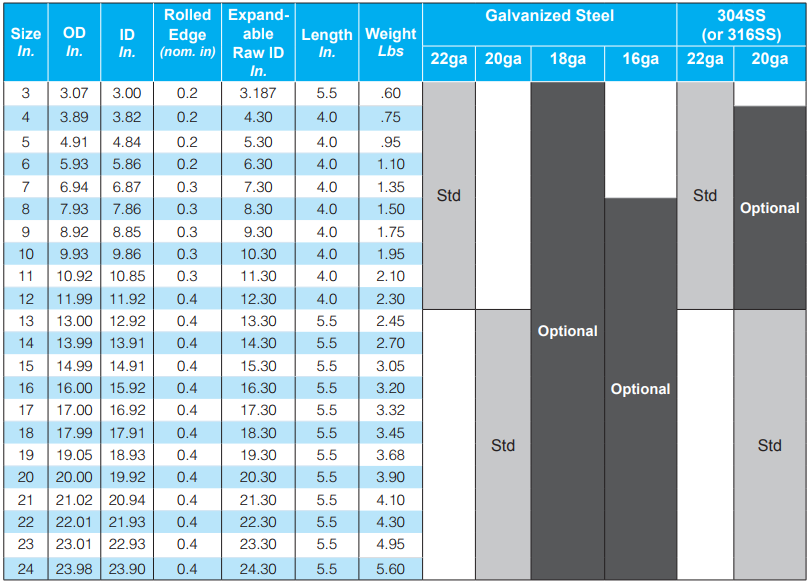 When do I need ePTFE seals with clamps?
ePTFE clamps are used in FDA, chemical, and high temperature applications.
When do I need to use stainless steel ducting?
Stainless steel is used in FDA, chemical and high temperature applications.
Do I need to do anything different for a wet system?
Yes, contact us with your wet system needs
What is the difference between a rigid flex steel hose and an ultra flex hose?
A rigid flex hose is constructed to hold its form and can support a small hood while an ultra flex hose is very limp.
How much pressure can Nordfab pipe withstand?
Nordfab has tested our pipe to +/- 80" WC (water column).
We operate systems from +18" WC to -38" WC.
What is the difference between Press Form, Gored, LSB, and Tubed Duct Elbows?
Press formed elbows are constructed in two halves with a welded seam.
Gored elbows are constructed in 15° segments.
LSB elbows are constructed of 16 gauge material segments lapped over one another, spot welded, and buffed smooth on the interior.
Tubed duct elbows are constructed from a 14 gauge extruded tubular steel with QF ends spot welded to each end.
Is QF FDA approved?
Nordfab products are not FDA approved. However, our products are commonly used in many food/ pharmaceutical applications.
Do you offer clean-outs?
Nordfab does offer clean-out doors, please contact us for details.
We do not recommend these because of them being a potential point of clog themselves. With the removal of two clamps on any component, a clean-out can be made.
Is QF SMACNA certified?
Nordfab is not SMACNA certified, although Nordfab does meet and exceed standards for Class 2 Ducting.
What is the difference between an angle flange and a flat flange?
An Angle flange is a cast standard KB style flanged. Flat flange is a 1-1/2" wide flat piece of 3/16" sheet metal not drilled unless you supply a drawing.
Nordfab Ducting parts can be easily connected to exisiting flanged duct systems using angle flange adapters.
What to do when connecting to a machine that has multiple, various-sized ports that are too close together for branches?
Nordfab offers custom manifolds to meet your application requirements.