Duct Clamps

* Scroll To Cart *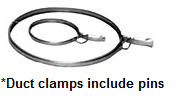 Duct Clamps feature an overlap design and operate as simple and fast connections to Nordfab QF duct pipes. These ducting clamps include Nitrile seals and pins for locking into a closed and sealed position, have a rolled edge to provide easy connection to various components, and efficiently clamp without flanges, screws, bolts, or tools.
The best selling and best sealing clamp in the industry! Nordfab ducting clamps are the perfect solution for most applications that produce fumes, dust, and oil mist. Effortlessly take the clamps apart to be cleaned or rearranged and prevent any possible leakage or open barriers. Now available in galvanized, stainless and stainless+ with optional no.4 finish. Duct Clamps include galvanized cotter pin. Inertex seals and SS construction are available at an additional charge.
Notes

Standard gasket installed in clamp
3/8" gasket in clamp sizes 4" - 6"
1/2" gasket in sizes 7" - 11"
21/32" in sizes 12" - 24"
Clamps supplied wth galvanized bridge pin
Small bridge pin with clamp sizes 4" - 6"
Large pin with 7" and larger size clamps
Customers Also Viewed