Finding the right commercial stainless steel ductwork products is a tedious process for those looking for the right product with a limited schedule. It's important to find the right stainless steel ductwork products to provide your customers with the right solutions that are easy to install, reusable, and easily cleaned for home or business office maintenance.
Commercial applications for stainless steel ductwork are useful for businesses and large manufacturing companies that need proper installation for large applications and industrialized construction. Using stainless ductwork for applications is just as strong as galvanized and aluminum and it resists corrosives. Stainless steel is perfect for applications such as food processing plants since the salts are resisted making it a better choice than materials such as galvanized steel.
Nordfab® products are a clamp system made in galvanized or stainless steel materials that resist harsh seasonal elements. Their system provides installation experts and design professionals with a better, more efficient way to install ductwork in a variety of industrial sites in need of durability. Nordfab systems provide installation experts with a better way to schedule their time by offering a forty five percent less downtown installation process than with other stainless steel duct products. The clamping system eliminates the time that is needed to caulk during installation which makes it invaluably efficient for commercial clients. The seamless stainless steel ductwork also eliminates the areas of the network where bugs can harbor. These clamping systems also remove the snagging areas that destroy the leak-free system.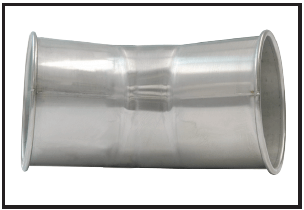 Nordfab products ensure that the ductwork installed in any large warehouse or office is leak-free and air tight. The Nordfab line of products is a laser, leak-tight welded system that provides a higher standard than other products. Additionally, it's adaptable to other existing ductwork products, so you can offer customers a way to improve on currently installed ductwork without it costing them a large sum to reinstall a whole new system.
Air Cleaning Specialists has a full line of products including the Nordfab line of stainless steel ductwork and other names designed specifically for improvement. They also offer a design and layout of your next ductwork installation project. They will quote you an affordable price for a CAD drawing for each drop. Along with each drawing, Air Cleaning Specialist will provide a customized stainless steel ductwork requirement list with respective prices to make it easy to implement your next job into project specifications.