When purchasing stainless steel duct, the effectiveness and efficiency of the ductwork are key to performance, durability, and longevity. For stainless steel ducting to achieve expected standards, the gauge and size of the duct must meet specific application requirements.
The stainless steel ductwork manufactured by Nordfab is made available in 18 and 16 gauge steel and with Quick-Fit connections in diameters ranging from 8 to 24 inches. These products are fully constructed in the specified gauge and not with lighter gauge collars.
Nordfab stainless steel ducting features laser or plasma-welded seams to create smoother internal surfaces and to provide enhanced leak resistance.
Stainless steel ductwork is useful for commercial businesses and large manufacturing facilities where medium to large industrialized applications take place. Using stainless steel ducting is just as strong as galvanized and aluminum and it resists corrosives.
Stainless steel duct is excellent for applications such as food processing plants and agricultural and chemical applications because it consists of iron, chromium, and nickel. Nickel reduces corrosion in highly acidic environments which helps stainless steel ductwork remain strong while providing resistance to threats like corrosion, mold, mildew, and moisture.
Stainless steel ducting is built to accommodate the inside and outside of facilities and doesn't require expensive repairs, replacement, or maintenance. It also reduces energy and can be relocated, reused, and is adaptable to preexisting ductwork systems.
Nordfab® is a clamp-style duct system made with stainless steel materials that resist harsh seasonal elements and high-abrasion applications. Nordfab Ducting systems provide installation experts and design professionals with a better, more efficient way to install ductwork in a variety of industrial sites in need of durability.
The clamping ductwork system eliminates the time that is needed to caulk during installation which makes it invaluably efficient for commercial and industrial clients. The seamless stainless steel ductwork also eliminates the areas of the network where bugs can harbor and eliminates the snagging areas that destroy leak-free systems.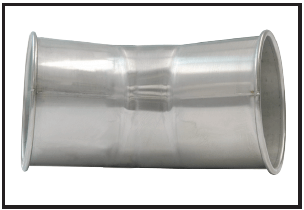 Nordfab products ensure that the ductwork installed in any large warehouse or facility is leak-free and airtight. The Nordfab line of stainless steel duct products are laser, leak-tight welded to provide a higher standard than other materials. Additionally, Nordfab stainless steel ductwork is adaptable to other existing duct products, so you can offer customers a way to improve on currently installed ductwork without it costing them a large sum to reinstall a whole new system.
Air Cleaning Specialists carries a full line of products including Nordfab stainless steel ductwork. We provide design and layout for ducting installation projects along with a CAD drawing for each drop. Along with each drawing, Air Cleaning Specialist provides a customized stainless steel ductwork requirement list with respective prices to make it easy to implement your job into project specifications.