Stackhead

* Scroll To Cart *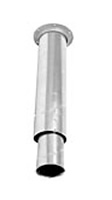 No loss stackheads are designed to be used when exhausting fans or stacks through a roof. Nordfab stackheads eliminate back pressure on the fan while providing weather protection. Now available in galvanized, aluminum, stainless and stainless+ with optional no. 4 finish.
Construction:
Inner pipe: laser welded up to 24" (exception: 3" is lapped, spot welded, and caulked). 26" and up is lock formed
Outer tube: on 15" diameter pipe and all smaller sizes, longitudinal seam is laser welded. On 16" and greater, seam is lock formed. 19" and greater, outer tube is two pipe sections with Angle Flange connections

ORDERING NOTES: Unless specified, 3" through 24" is QF. Over 24" is flanged. Data subject to change without notice. Stainless steel components requiring flanges will be supplied with stainless steel flanges unless otherwise specified. For special parts or items to be custom manufactured, contact us for quotation.
Customers Also Viewed