Hose Adapter

* Scroll To Cart *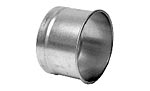 Nordfab® Ducting's Quick Fit® Hose Adapters are designed to provide a connection from WF ductwork to flex hoses. Hose ends are beaded to assist in retaining hose and hose clamp or bridge hose clamp. These QF Hose Adapters are made for use with Nordfab's Flexible Rubber Hose or Static Dissipative Urethane Hose.
Notes: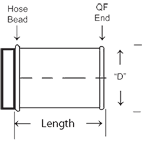 QF® (standard), Flange, Raw
Hose adapters are available in Galvanized or Stainless Steel
Galvanized steel provides little or no breakdown of zinc (zinc melting point 740°F)
Construction:
Seam: longitudinal seam is solid laser welded (exception: 3" adapter is lapped, spot welded, and caulked.)

ORDERING NOTES: Unless specified, 3" through 24" is QF. Over 24" is flanged. Data subject to change without notice. Stainless steel components requiring flanges will be supplied with stainless steel flanges unless otherwise specified. For special parts or items to be custom manufactured, contact us for quotation.
Customers Also Viewed