Adjustables 16 ga

* Scroll To Cart *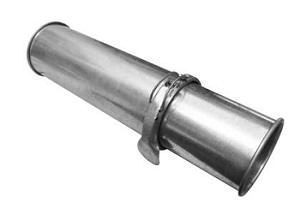 16 Guage adjustble nipples must be used with 16 ga pipe.
Nordfab® 16 Gauge Adjustable Nipples are designed to provide variable length adjustments in Quick-Fit® systems and feature laser welded seams and rolled ends. Standard rubber o-ring provides seal.16ga Adjustable Nipples are available in galvanized and stainless steel materials.
Example of how to use Adjustable Nipple below.

ORDERING NOTES: Unless specified, 3" through 24" is QF. Over 24" is flanged. Data subject to change without notice. Stainless steel components requiring flanges will be supplied with stainless steel flanges unless otherwise specified. For special parts or items to be custom manufactured, contact us for quotation.
Customers Also Viewed