Canopy Hood

* Scroll To Cart *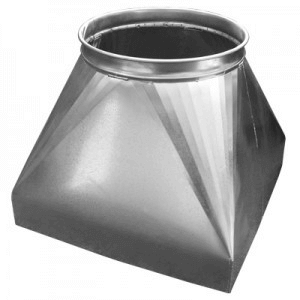 Canopy hoods are constructed of stainless steel and feature a hemmed end. If flange is required, please see transitions duct parts. Specify opening size: 18" square, 24" square, 36" square, or 48" square. Other sizes upon request (max. size 72" x 48").
Notes:
Hood Design Basis: 150 fpm capture velocity, 2 ft. distance from source
Construction:
Seam: is lapped, spot welded, and caulked
Collars: located on the exterior side of each port and considered as air flow non-directional. Collars have a laser welded longitudinal seam (exception: 3" collars are lapped, spot welded, and caulked.) If air flow directional product is required, it must be stated on the PO and additional cost may be incurred. A raised lap seam and spot weld are used for attaching the collar to the body and no caulking is used. If caulking is required, additional cost may be incurred

ORDERING NOTES: Unless specified, 3" through 24" is QF. Over 24" is flanged. Data subject to change without notice. Stainless steel components requiring flanges will be supplied with stainless steel flanges unless otherwise specified. For special parts or items to be custom manufactured, contact us for quotation.
Customers Also Viewed