Bell Mouth Adapter

* Scroll To Cart *
ACS carries Nordfab® Quick-Fit® Bell Mouth Adapters which are designed with a flared end to increase the capture ratio of smoke, dust, and air, as well as, expand laminar air flow. The Quick-Fit rolled edge ends allow for a seamless connection to Nordfab duct fittings. Now available in galvanized, aluminum, stainless and stainless+ with optional no. 4 finish.
Notes:
QF® (standard), Flange, Raw
20 gauge
At temperatures ranging between 390° F and 480° F, the zinc-iron alloy layers in galvanized steel will continue to provide a high level of protection from corrosion. However, there may be some peeling, changes in mechanical properties, and reduction in the corrosion protection. Recommended max. service temperature is 390° F.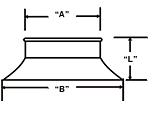 Construction:
Bell: constructed from a solid sheet so no seams are present in the bell portion. The bell begins as 18 gauge and thickness cannot be changed
Collars: have a laser welded longitudinal seam (exception: 3" collars are lapped, spot welded, and caulked.) Collars are attached to the body using a raised hemmed, spot welded seamed construction and are caulked.

ORDERING NOTES: Unless specified, 3" through 24" is QF. Over 24" is flanged. Data subject to change without notice. Stainless steel components requiring flanges will be supplied with stainless steel flanges unless otherwise specified. For special parts or items to be custom manufactured, contact us for quotation.
Customers Also Viewed