End Cap

* Scroll To Cart *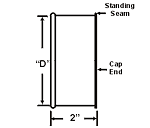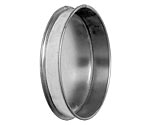 End Caps easily connect with duct clamps and are constructed to be used to cap-off unused ducting ports. Nordfab End Caps are ideal for future expansion or when a machine has been moved. Now available in Galvanized, Aluminum, Stainless, and Stainless+ with optional no. 4 finish.
Notes:
End Caps larger than 24" will be a flat plate and angle rings
Galvanized steel provides little or no breakdown of zinc (zinc melting point 740°F)
Construction
:
End plate: solid end plate is crimped in place, similar to a lock form seam
Collars: Collars have a laser welded longitudinal seam (exception: 3" collars are lapped, spot welded, and caulked.)

ORDERING NOTES: Unless specified, 3" through 24" is QF. Over 24" is flanged. Data subject to change without notice. Stainless steel components requiring flanges will be supplied with stainless steel flanges unless otherwise specified. For special parts or items to be custom manufactured, contact us for quotation.
Customers Also Viewed