NFMES Manual Blastgate

* Scroll To Cart *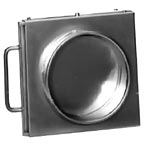 Nordfab's® manual blastgates feature a compact, easy-to-operate design and are constructed of galvanized, aluminum, stainless or stainless+ with optional no. 4 finish materials with a sealing device that minimizes air loss and friction during the operation process. Other sizes are available upon request.
Construction:
Blade and body: 18 gauge
Collars: Located on the exterior side of each port and considered as air flow non-directional. Collars have a laser welded longitudinal seam (exception: 3" collars are lapped, spot welded, and caulked.) Collars are spot welded to body.
Handles: 1018 carbon steel Powder Coated
Ends: Standard QF® end can be changed to Raw ID (RAWID), Raw OD (RAWOD), No Fitting (NF), Hose Adapter (RAWFLEX), Flat Flange (FFL), Angle Flange (ANGFL), or Van Stone (VANSTONE)

ORDERING NOTES: Unless specified, 3" through 24" is QF. Over 24" is flanged. Data subject to change without notice. Stainless steel components requiring flanges will be supplied with stainless steel flanges unless otherwise specified. For special parts or items to be custom manufactured, contact us for quotation.
Customers Also Viewed