Nederman Fume Extractor Arms
Compact extraction arms that are easy to adjust and position.
Nederman extraction arms are highly flexible, simple to position, extend and retract. The arms can be connected to ductwork and a fan to exhaust harmful fumes to atmosphere, or to run them through a filtration system to be recycled back into the room. Many options are available including brackets, accessories, hoods and dampers to meet the needs of any application.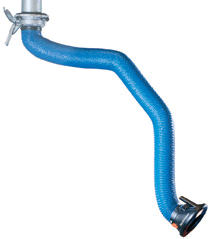 Original Arm
Original Arm
Highlights:
Designed for medium-duty dust and fume exhaust, repair and light fabrication applications
360° heavy-duty swivel for maximum reach and flexibility in all directions
Can be mounted to mobile/fixed equipment, wall bracket, extension arm or exhaust rail
Arm Diameter: 6.25"
Recommended Airflow: 400 - 600 CFM
Max Air Temperature: 160° F
Includes arm, swivel base, hood and integrated damper
Requires a wall mounting bracket (10550635, 10550735, 10550835)

Shop Original Arms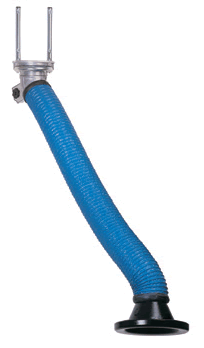 Telescopic Arm
Telescopic Arms
Highlights:
Designed for light to medium-duty dust, vapors and fume applications in small areas
Telescopic reach distance from 36" to 63"
360° heavy-duty swivel for maximum reach and flexibility in all directions
Arm Diameter: 6.25"
Recommended Airflow: 400 - 600 CFM
Max Air Temperature: 160° F
Includes arm, swivel base, and hood
Requires a wall mounting bracket (10550635, 10550735, 10550835)

Shop Telescopic Arms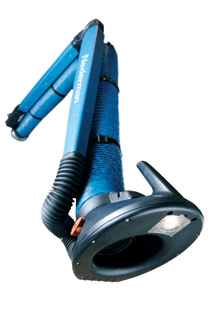 NEX MD Extraction Arm
NEX MD Extraction Arms
Highlights:
Designed for medium-duty dust, vapors and fume applications
Suited for environments such as dust, powder, welding and grinding
Robust support system - Precision balanced, protection from dirt and ultra-easy positioning
Pass-thru duct system - Provides maximum airflow with minimal pressure loss
360° heavy-duty swivel for maximum reach and flexibility in all directions
Can be mounted to wall bracket, extension arm or exhaust rail
Arm Diameter: 6.25"
Recommended Airflow: 500 - 750 CFM
Max Air Temperature: 160° F
Includes arm, swivel base, hood and integrated damper
Requires a wall mounting bracket (10372215, 10372722, 10512732, 10512832)

Shop NEX MD Extraction Arms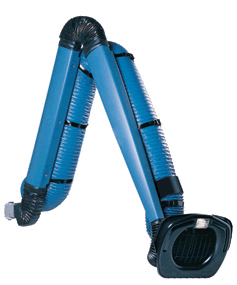 NEX HD Extraction Arm
NEX HD Extraction Arms
Highlights:
Designed for medium-duty dust and fume exhaust, repair and light fabrication applications
360° heavy-duty swivel for maximum reach and flexibility in all directions
Can be mounted to mobile/fixed equipment, wall bracket, extension arm or exhaust rail
Arm Diameter: 6.25"
Recommended Airflow: 400 - 600 CFM
Max Air Temperature: 160° F
Includes arm, swivel base, hood and integrated damper
Requires a wall mounting bracket (10550635, 10550735, 10550835)

Shop NEX HD Extraction Arms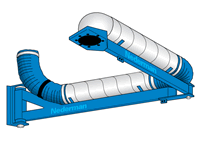 Extension Arm
Extension Arms
Highlights:
Provides extra reach of 14' or 20' in addition to arm length
Use with Nederman arms; Standard, Original, Telescopic, NEX MD/HD
For all non-explosive applications such as dust, fume, grinding, cutting or vehicle exhaust
Mounting to wall or column is simple using the included mounting bracket
Possible to support an exhaust hose reel with the correct bracket (ordered separately)
Arm Diameter: 8"
Recommended Airflow: 500 - 1,200 CFM
Max Air Temperature: 300° F
Max Loads: 14' - 200lbs, 20' - 130 lbs
Max Negative Pressure: 12" WG

Shop Extension Arms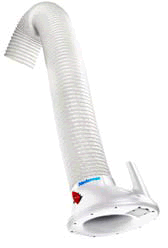 Original CR Arm
Original CR Arm
Highlights:
Designed for working environments with fumes, vapors or non-explosive dust
Anodized aluminum parts that enhance corrosion protection
Suitable environments include food, pharamaceutical and chemical industries
360° heavy-duty swivel for maximum reach and flexibility in all directions
Can be mounted to mobile/fixed equipment, wall bracket, extension arm or exhaust rail
Arm Diameter: 6.25"
Recommended Airflow: 400 - 600 CFM
Max Air Temperature: 160° F
Includes arm, swivel base, hood and integrated damper
Requires a wall mounting bracket (10550635, 10550735, 10550835)

Shop Original CR Arms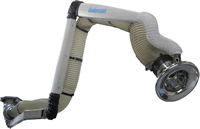 NEX D Extraction Arm
NEX D Extraction Arm
Highlights:
Designed for pharmaceutical, food process and chemical environments
Hygienically designed for applications that require FDA approved hose
Encapsulated support system - Superior armature protection from dust, dirt and corrosion
Pass-thru duct system - Provides maximum airflow with minimal pressure loss
360° heavy-duty swivel for maximum reach and flexibility in all directions
Grounded air duct reduces static electricity and dust accumulation inside of hose
EX approved in Zone 2/22 D for dust and gas according to ATEX 94/9/EC, Group II
Arm Diameter: 6"
Recommended Airflow: 650 - 1,100 CFM
Max Air Temperature: 160° F
Arm Conductivity: <106 ohms
Includes arm, swivel base, stainless steel hood and FDA approved hose
Requires a wall mounting bracket (10372215, 10372722, 10512732 or 10512832)

Shop NEX D Extraction Arms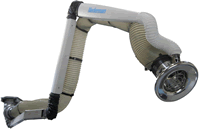 NEX DX Extraction Arm
NEX DX Extration Arm
Highlights:
Designed for pharmaceutical, food process and chemical environments
Ideal for working environments that contain explosive dust or explosive gases
Encapsulated support system - Superior armature protection from dust, dirt and corrosion
Pass-thru duct system - Provides maximum airflow with minimal pressure loss
360° heavy-duty swivel for maximum reach and flexibility in all directions
Double grounded anti-static hose to prevent static electricity and sparking inside hose
EX approved in Zone 1/21 D for conductive dust according to ATEX 94/9/EC, Group II
Arm Diameter: 6"
Recommended Airflow: 650 - 1,100 CFM
Max Air Temperature: 160° F
Arm Conductivity: <106 ohms
Includes arm, swivel base, stainless steel hood and FDA approved hose
Requires a wall mounting bracket (10372215, 10372722, 10512732 or 10512832)

Shop NEX DX Extraction Arms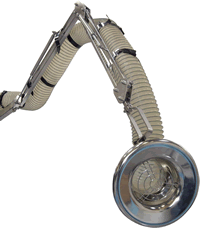 NEX S Extraction Arm
NEX S Extraction Arm
Highlights:
Designed for high corrosive, high explosive, hygienic or CPI environments
Meets hygienic specifications for food processing, pharmaceutical and chemical industries
Corrosion resistant support system - Composed of polished 316 stainless steel
Pass-thru duct system - Provides maximum airflow with minimal pressure loss
Double grounded anti-static hose to prevent static electricity and sparking inside hose
Grounded arm support mechanism
EX approved in Zone 1/21, 2/22 D/G for conductive dust per ATEX 94/9/EC, Group II
Recommended Airflow for 5" arm: 400 - 700 CFM
Recommended Airflow for 6" arm: 650 - 1,200 CFM
Max Air Temperature: 160° F
Arm Conductivity: <106 ohms
Hose Conductivity: <108 ohms
Includes arm, wall mounting bracket and 316 stainless steel hood

Shop NEX S Extraction Arms

Accessories/Replacement Parts
Accessories/Replacement Parts
Includes:
Wall mounting brackets
Extension brackets
Extension Cables
Replacement parts: hoses, clamps, etc.
Work lights
Switches
Hoods, dampers and connection sleeves

Shop Arm Accessories and Replacement Parts
Customers Also Viewed